50 Terrifyingly Creative Halloween Makeup Ideas To Try
50 Terrifyingly Creative Halloween Makeup Ideas To Try
Halloween makeup looks are redone constantly, updated across social media by some of our favorite MUAs and inspired by anything and everything imaginable. For those with the skills and the means movie-worthy effects can be created, but we all know makeup is transformative. The makeup process should never be underestimated and the results can be very unexpected, as we have known for a very long time that nearly anything can be done with makeup. Here are50 terrifyingly creative Halloween makeup ideasthat are to die for and that you can use for inspiration as well.
1. Melting Barbie Halloween Makeup
This is a pretty original Halloween makeup idea that will allow you to dress as anything you want – after all Barbie has been everything from an Astronaut to a chef. The melting plastic is detailed with the same colors of her lipstick and mascara for a touch of realness.
2. Light Skeleton Makeup
Unlike most skeleton looks, this one is done with heavy contouring in (super)natural shades for a softer look. This one is a great option that can be very forgiving of mistakes rather than a black and white skeletal face option.
3. The Big Reveal: Melted-Face Halloween Makeup
This is such a creative Halloween makeup idea that requires a dedication to detail. The flawless eyeliner is the best part paired with that brow, but the façade has melted off the majority of her face, revealing an immaculately painted skull with stunning shading for depth and dimension.
4. Inner Darkness
This is a multifunctional appearance that can pass for several different fantastic Halloween creature ideas, giving your costume the boost into ethereal. The dark eyes are beautifully framed by long, curly lashes and perfect eyeliner and inner corner highlight. The glitter accents above and below are a great addition.
5. Dedicated Lion Tamer
This is a super creative Halloween makeup look that can be interpreted a number of ways, but the use of the gouges from her feline show buddies are definitive and impressive, accented by the red center of her lips.
6. Harley Quinn Halloween Makeup (Circa Suicide Squad)
Any true fan will tell you there are a few different Harley looks available, but everyone expects to see quite a few smeared makeup Harley Quinn's from theSuicide Squadmovie. It might seem like an easy look, but don't be fooled. Fortunately, there are plenty of makeup tutorials out there to help you.
@halloweenmakeupideas
7. Infested!
This is a Halloween look designed to wow, shock and disturb people and it is a great way to do so. The intricacy is amazing, the highlights really bring it to life and it is very conceptual.
@halloweenmakeupideas
8. Traditional Black and White Skull
The traditional black and white skull Halloween makeup is always a look with an impact and recognizable from further away than any other. If you want to try this look yourself, here is a tutorial!
9. Phantasm Halloween Look
This look would work for nearly any specter or ghost like creature, possibly even a Zombie depending on the overall look you're going for. Just remember to blend!
@halloweenmakeupideas
10. Candy Corn Hopped up Clown Halloween Makeup
This is incredibly artistic and detailed, and the clown looks like a sugar high just kicked. Judging from the colors and details, Candy Corn is what pushed them over the edge.
@halloweenmakeupideas
11. Sally from The Nightmare before Christmas
Sally is an iconic character and really well loved. This is a great cosplay as well as Halloween look, and the blue stitches drawn on the skin are a great touch!
12. Soft Skull Halloween Makeup
Halloween skulls are done so many different ways, but this is a very cool looking softer makeup look that used products by pencil, lashes and eyeshadows to create.
13. Sketchy Clown Halloween Makeup
This is a great, minimalist appearing and artistic clown that really looks amazing. This will make an impact while being recognizable as a clown anywhere.
14. Twin from The Shining
A cool take on the creepy twins fromthe Shining, with a touch of gore and creepiness rather than an overwhelming amount if too much gore is not your thing.
@halloweenmakeupideas
15. Kaleidoscopic Halloween Makeup
The caption on her Instagram saysHippie Fortune Tellerand notes that the entire look was done with the Make Up For Ever Flash Palette and Pixie luxe lashes.
@erikamariemua
16. Royal Gold Skeleton
I personally am in love with this Halloween makeup idea; it's amazing. The Goldilux pigment was mixed with adhesive glue and for extra oomph the black chromaline by MAC Cosmetics and Dark Matter and Assimilate shadows by Melt Cosmetics, as well as considerable artistic talent was used to create this look.
@erikamariemua
17. Eye Patch Reveal
This take on what is beneath a pirate eyepatch is conceptual and very cool. The look is different and guaranteed to be the talk of any party. The use of Makeup Geek cosmetics certainly played a huge part with the foil Fortune Teller shadow, Cocoa Bear and Corrupt shadows.
18. Nightmare Nurse Halloween Makeup
The MUA said this Halloween makeup look was inspired by Stephen Gammell's art inScary Stories to Tell in the Dark, and it's a masterpiece. The nightmare nurse is beautifully done monochromatic Halloween skull.
@halloweenmakeupideas
19. Pastel Nightmare
There are a lot of different brush techniques applied here and the final look is brilliant. The pink and black tears are a great touch and the lashes are beautiful.
@halloweenmakeupideas
20. Undead Stunner
Just because she's a zombie doesn't mean she can't be beautiful. The blending here is amazing and really stands out with the facial wounds. We have a tutorial here if you would like to try it out yourself.
21. Pop Art Zombie Halloween Makeup
Zombies are traditional Halloween fare, but in this case it is elaborately, beautifully done. This is done with paint, of course, and a great skill and planning, and it is a Halloween nightmare that can liven up any undead party.
@halloweenmakeupideas
22. Halloween Rudolph
This is not the reindeer many expect, if they expected on during Halloween at all. The contouring is well blended and super soft, and the spots stand out just right. Even the jingle bell collar is a great touch, but the doe eyes are just the perfect amount of creepy.
@eva.lamorte
23. A True Face Peel
Sometimes it would be easier to just slap on a new face right? Horrifying to remove though it will be, the offer is still tempting. This is a great use of a single element to update a regular beautiful face of makeup as long as you are talented with latex.
@halloweenmakeupideas
24. Contaminated Zombie Halloween Makeup
If you want to step away from ordinary Zombie makeup, this one could actually pass for a few different imaginative Halloween looks. The single contact is a nice touch and the look works well with the ombre green hair but the silver is the best touch.
@halloweenmakeupideas
25. Subtly Scary
This look has a lot of interesting elements to it that make it seem like the MUA is a dream creature from any fantastic horror movie out now. Be prepared for lots of questions and compliments, if this is a look you are interested in.
@halloweenmakeupideas
26. Red's Inner Wolf
This is a great take on Little Red Riding Hood and the Big Bad Wolf. It's beautifully done and would look amazing at any Halloween event.
27. Elf on a Shelf
If you want to represent Christmas on Halloween or just find Elf on a Shelf a bit creepy, here is the cosplay or look for you. This particular Halloween makeup is done with both body paint and makeup products.
28. Steam Punk Skeleton
The steampunk mask is a great touch, but the base of this look is what really makes this Halloween makeup amazing.
29. Pop Art Marge Simpson Halloween Makeup
Marge is a favorite character for a lot of people, and combining her iconic appearance with pop art just makes sense! This is a vibrant full look that will require patience but will have a huge payoff.
30. Day Glow Skeleton
This Halloween makeup look was done using only Nyx Cosmetics! Every skeleton should stand out, no reason to be a plain set of white bones!
31. Bloody and Bruised Zombie
Want to be a zombie that is still a bit fresh? Try this look, post mortem bruising and a bit of blood, definitely a youngster in their undead life!
@halloweenmakeupideas
32. Half A Turn
Decay eats away at the pretty, but not so quickly that you cannot see the hard work of her morning makeup application. Think of the reactions at the party when she turns her head, on side to the other is a big difference.
@halloweenmakeupideas
33. Ghoulish and Ghastly
Pale tones and great shading make this a standout Halloween makeup look and the contacts framed by the long lashes and white mascara only enhance the ghostliness.
34. Day of the Dead
Sugar Skulls and Day of the Dead Halloween makeup looks do have a great cultural significance to a lot of people. If you are one of those people and planning on doing a great take on a sugar skull, this is a cool option.
@makeup_mars
35. Sunset Clown Halloween Makeup
Softer but no less impactful, this clown Halloween makeup will be serious competition for any other costume and especially other clowns. The orange and cream colors blended so well that the soft contours are amazing.
@makeup_mars
36. The Sassy Undead
Sultry and sassy for someone missing a lot flesh, this look is amazing. This was done with a combo of body paint and makeup.
@makeup_mars
37. Moldy Mummy!
The death of this mummy is the details. This MUA was very dedicated and applied withering to the bandages, moldy spots to the skin; it's a beautifully well-executed look.
38. Krampus Halloween Makeup
This Krampus Halloween makeup is for those who want to combine Christmas and Halloween without missing out on a good dose of fright.
@ellie35x
39. Easy Halloween Mummy
If you are looking for a Halloween makeup look that is a bit creepy, but still beautiful, take a look at this mummy tutorial!
40. Broken Doll Halloween Look
You're a doll all year long, why not be one on Halloween too? The broken doll Halloween makeup is detailed and vivid.
@ellie35x
41. Botched Halloween Makeup!
Well done and detailed, this Halloween makeup look hits on every fear about plastic surgery, and realistic fears are the best ones to address in costume if you want to make an impression.
42. Dark Royalty
The devil is in the details here, and from the rough black crown to the lashes to the painted neckpiece, this look is amazing. The black and grey ombre wig is a great finishing touch as well.
43. Hellfire's Demon
The offsetting feature here is the use of the oranges and reds to provide the lava breaks on the skin, matched perfectly by the contacts. Be the brightest demon in the room with this Halloween makeup idea and don't forget the horns.
44. Vintage Clown Halloween Makeup
There are quite a few cool looking clowns on this list, but for Halloween terror, this is a clown that you want. Horrifying but awe-inspiring, isn't it?
45. Zombie Alice Halloween Makeup
Or possibly Alice in Zombieland, this take is still pristine with a definite darkness. The most impeccable part of this look is definitely the brows and eyes, but overall this is a great Halloween makeup idea.
46. Catwoman Halloween Look
Catwoman has been popular in every version since she came out, and rather that wearing a mask, painting one on seems like a good way to prevent having to adjust all night. Try this tutorial to recreate the look!
47. The Joker
The Joker has had many incarnations and this one circaSuicide Squadis no less popular than the others. The intensity in the look is amplified by the MUA's application.
48. The Seer
See everything with your third eye while rocking this amazing look that is both futuristic and historic. The color combination in this Halloween makeup is unexpected, but beautifully put together.
@halloweenmakeupideas
49. Terror Within
Aliens have infiltrated and are beginning to drop their human disguises! At least that is what people will think seeing this alien Halloween makeup job.
50. Winged Unicorn Halloween Look
Make a magical impression with this unicorn Pegasus hybrid Halloween makeup. The rainbow hair is a great touch and the glittering highlights and contouring works beautifully with the jewels to catch the light.
Photos courtesy of Instagram
Don't miss: 50 Awe-Inspiring Halloween Nail Art Designs
Written by Camielle Lawson-Livingstone
Camielle is one of the Fashionisers.com writers with an ardent adoration for all things fashion. If it is beautiful or interesting she wants to read and write about it, wear and see it. Look for new trends she's written about or send recommendations, she'll be sure to check them out!
Video: Top 15 Easy Halloween Makeup Tutorials Compilation 2017
50 Terrifyingly Creative Halloween Makeup Ideas To Try images
2019 year - 50 Terrifyingly Creative Halloween Makeup Ideas To Try pictures
50 Terrifyingly Creative Halloween Makeup Ideas To Try forecasting photo
50 Terrifyingly Creative Halloween Makeup Ideas To Try foto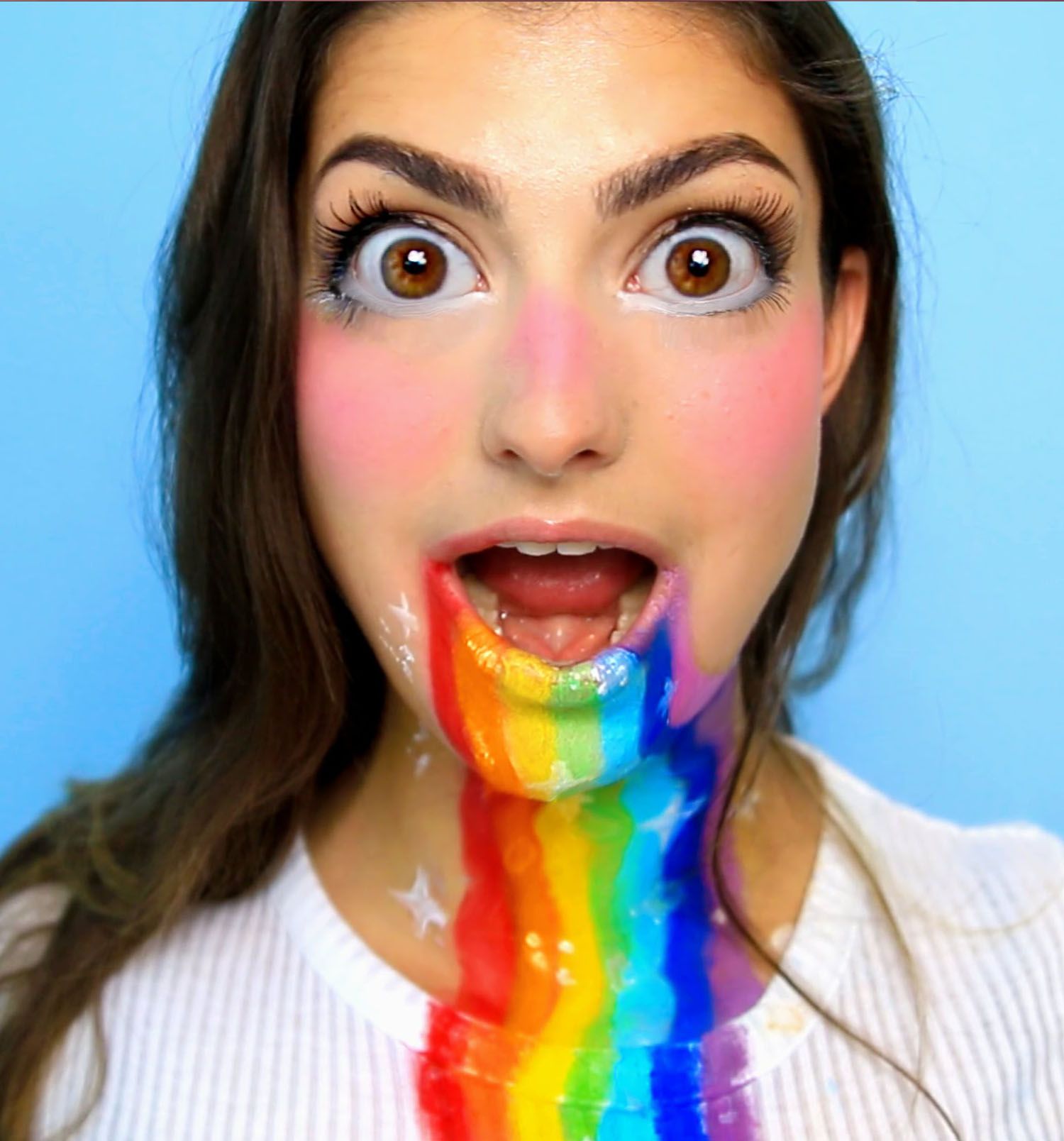 50 Terrifyingly Creative Halloween Makeup Ideas To Try new pictures
images 50 Terrifyingly Creative Halloween Makeup Ideas To Try
Watch 50 Terrifyingly Creative Halloween Makeup Ideas To Try video
Forum on this topic: 50 Terrifyingly Creative Halloween Makeup Ideas To , 50-terrifyingly-creative-halloween-makeup-ideas-to/ , 50-terrifyingly-creative-halloween-makeup-ideas-to/
Related News
Shop It Right Now: Target's Collaboration With FEED HasLaunched
16 Celebs With Their Adorable Rescue Dogs
How to Make an MP3 File
8 Reasons Your Pee Looks Kinda Cloudy
Work Jackets For Men: 4 Stylish Alternatives To A Blazer
Ionsys
Giorgio Armani Fall 2019 Show Closes Milan Fashion Week With Black Velvet
How to choose an engagement ring: The questions to ask
How to Perform a No Comply Pressure Flip on a Skateboard
How to Make YOUR Body Look Its Best in a Swimsuit
How to Make Gourmet Smores
Date: 11.12.2018, 14:32 / Views: 45332
---